Accommodation
While we are working on a real wooden lodge, our camp is based on a modern version of traditional Kazakh yurts.
The camp consists of 3 yurts for guests and staff, one dining room/kitchen yurt, and one classic wooden Banya (bathhouse, similar to sauna).
Yurts for guests are 50 square meters each, with 4 rooms separated by wooden walls and two beds in each room. The rooms are separated visually but not acoustically. Beds have mattresses and bed linen. Heated by a wooden stove, with enough space to store and dry the gear and clothes.
The dining yurt is 64 square meters, with tables, chairs, and some space for socializing. Electricity is available. 
Banya (bathhouse) is a separate wooden building. It also includes a heated sanitary block with wash basins and standard toilets.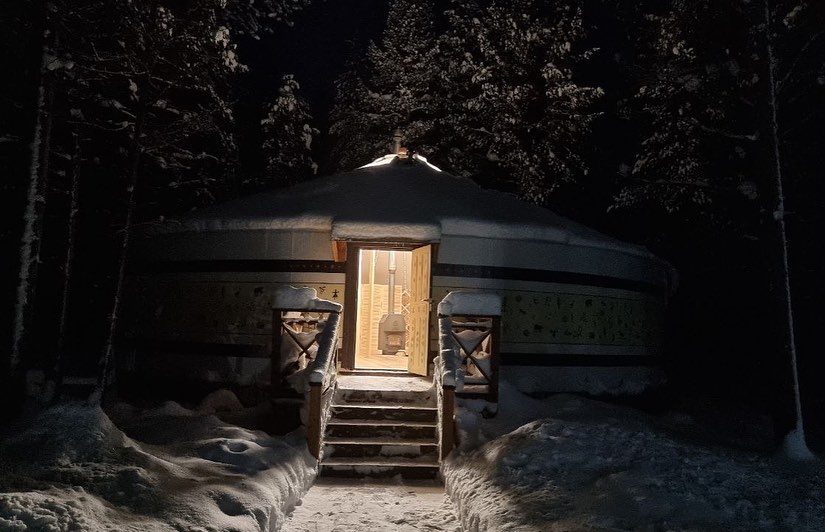 Meals
We do our best to make the food and the skiing a remarkable part of your trip. Our talented chefs decided to change the big restaurants of Almaty for our camp for the winter. And this means that you have some of Kazakhstan's best chefs. Our menu is traditional Kazakh and Central Asia dishes with premium local ingredients and modern cuisine—nothing but an exceptional gastronomic experience.
There are three hot meals daily (breakfast, après-ski soup and snacks, dinner) and sandwiches/muesli bars for mountain lunch. You can purchase alcoholic drinks at the accommodation for a reasonable price (beer, vine, liquors). If you prefer any other alcoholic beverages, you are welcome to bring them without charge.
Our chef can accommodate most of the dietary requirements and some food allergies. Our guests are asked to complete a registration form and mention any dietary needs so we can be fully prepared for your arrival. If no requests are received, a special menu is not guaranteed.